Latest News
The RFU are running a national survey. They are keen to hear from rugby players between the ages of 7 and 18 in clubs, schools and colleges. They have asked if any Springfield pupils who play rugby for a local club could take the time to complete the online survey below:
All responses will be entered into a prize draw to win tickets to an England match at Twickenham Stadium.
The survey closes on Monday 3rd June.
Many thanks
The PE department.
As we approach exam season, we are delighted to announce that with effect from Monday 13th May 2019, our school canteen will be open from 8:15am to 8:45am to serve breakfast to all Year 11 pupils. Typical menu items include:-
Bacon roll - £1.00
Rice Crispies and milk - £1.00
Croissant - £1.00
Muffin (ham/cheese or cheese/egg) - £1.00
Toast and jam - 50p
Piece of fruit and small water - £1.00
Large water - £1.00
Crumpets (x 2) - 50p
Please note that pupils should only be arriving early for planned revision sessions, or for this breakfast provision, and pupils should remain in the canteen area before 8:30am, unless they are attending an early revision session.
We hope that you and your child will benefit from this provision over the exam period, and wish them all the best in their forthcoming GCSEs.
REMINDER: If your child is doing a guitar grade examination with Chris Gray this term, please note that the entry money (cheque) must be given to Miss Gray by Friday 10th May so she can enter her pupils altogether. Pupils will have had a letter with more information, but any questions can be answered by Mrs Latif or Miss Gray directly.
For those of you who are interested in becoming a Learning Support Assistant Springfield are holding an informative open morning on 24th May. Please do come along to find out more...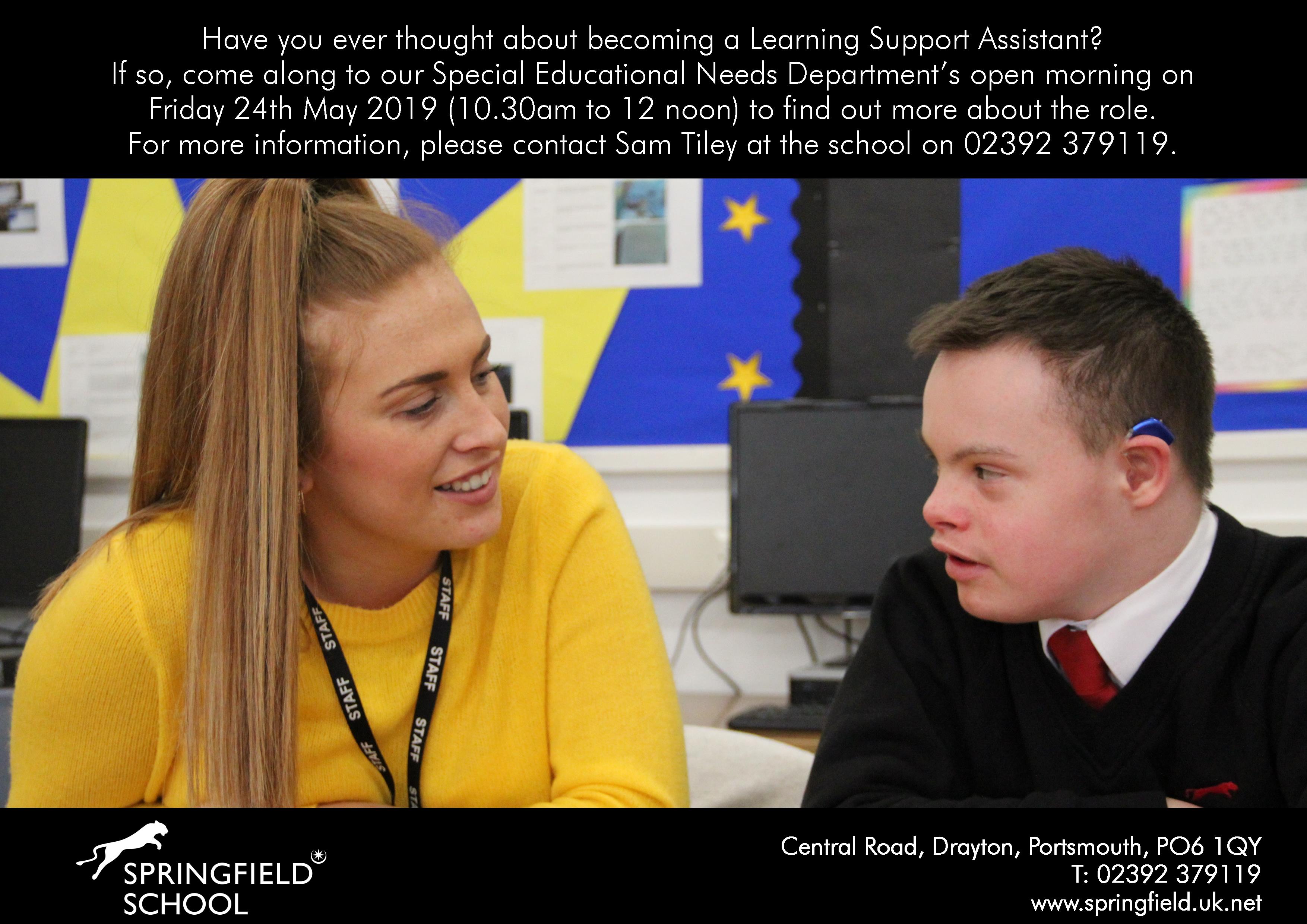 Mrs London's Year 7 English class recently took part in a competition to produce the best Shakespeare leaflet. Mrs Williams, the school Librarian was delighted to judge the entries. She had a tough job as the leaflets were all of an excellent standard. The winning leaflet (shown below) was produced by a group of five pupils (pictured below) who were presented with a book each as their prize. Well done to everyone who took part! All of the entries are currently displayed in the school library.