Latest News
Please see a letter (below) to parents about the recent events in Nairobi for your information and be assured that group safety is the absolute priority on all our school trips. The group does not stay in Nairobi and the Rift Valley area where Nakuru, our base, is located is a very safe part of the country. The group is no more at risk than going to London or Paris in terms of terrorist attacks and we always follow the guidance of the UK Foreign and Commonwealth Office who say the area is perfectly safe and trip organisers African Adventures who have permanent staff in Nairobi and Nakuru will not allow any groups to go if there is a major risk.
Mr Lomas
We are pleased to share below a useful leaflet produced by the Department of Education highlighting the importance of the English Baccalaureate (EBacc) for pupils. This will be especially helpful as our Year 8 pupils approach the time they are making their choices.
The EBacc comprises a GCSE pass for English, Mathematics, two Sciences, Humanities (History or Geography) and MFL (Modern Foreign Language). Springfield continues to lead the way in terms of EBacc entry, entering more students as a percentage of its cohort than any other (maintained) school in Portsmouth in 2018 (68%). This reflects Springfield's commitment to delivering a broad and balanced curriculum for its students.
Springfield has consistently performed well in the EBacc. For example, in 2017, 71% of students were entered for all elements of EBacc, which was 33 percentage points higher than national (38%); 38% of our students achieved a strong pass (grade 5 or above) in all elements of EBacc, which was 17 percentage points higher than national (21%). In 2018, the average point score (provisional) achieved for EBacc (new GCSE for all EBacc subjects) was 4.5.
Many thanks
We were pleased to host another successful stakeholders' tea yesterday in our Treble Clef Chef room. The informal event had a festive feel with background music provided by two of our talented music pupils. Guests were able to network with each other and members of the senior prefect team as well as teaching staff, the senior leadership team, governors and trustees. Head Boy Harry Stoneman and Head Girl Ella Williams concluded the event by giving a speech thanking our stakeholders, governors, trustees and staff for the ongoing support they give to the school. One of our longstanding stakeholders commented: "It was good meeting a few new faces from the school and other people who give up their time, plus ones I knew. The students hosting us were great too."
Thank you to all of our stakeholders for the time and expertise you give the school.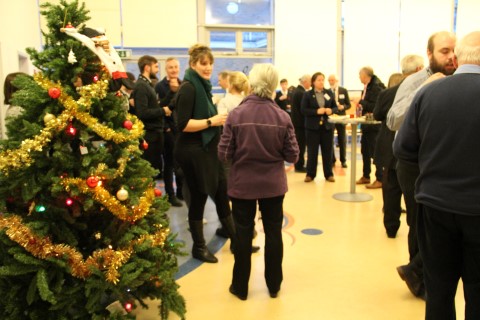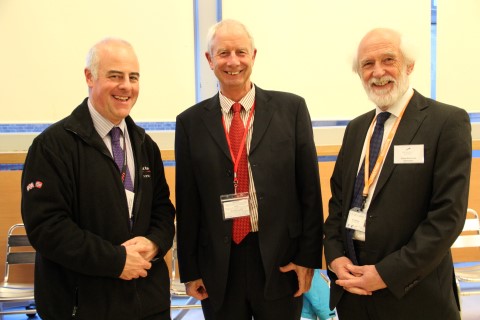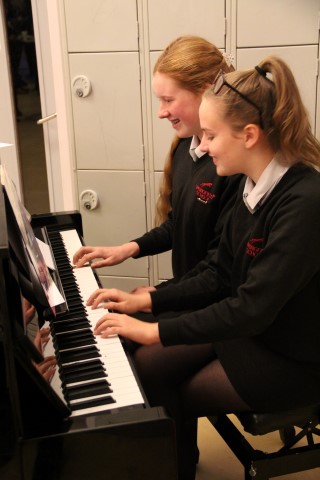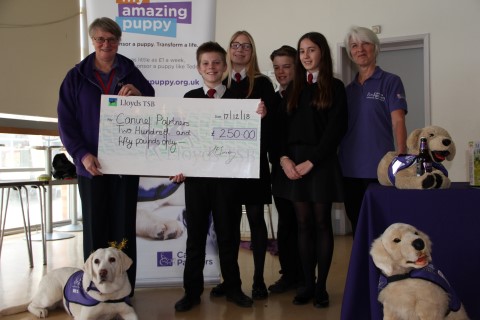 It was great to welcome back Canine Partners to Springfield yesterday. Year 8 were thrilled to meet Tina one of their training assistance dogs who demonstrated some of the useful tasks the Canine Partner dogs perform. We were also proud to present Canine Partners with a cheque for £250 which was raised by the school for the charity.
Canine Partners commented "We were delighted to return for our fourth annual visit to Springfield School as part of their Year 8 studies into charities. We explain the work of the charity and how the dogs are trained to help people with significant disabilities. Demo dog Tina joined us to accept a cheque of £250 as part of the fundraising by the school whose five houses also sponsor one of our puppies. Fantastic support Springfield. Thank you!"
Thank you to the Canine Partners team and Tina who gave up their time to speak to our pupils - we look forward to welcoming you back soon.
For more information about Canine Partners and the invaluable work they do please visit their website: https://caninepartners.org.uk/